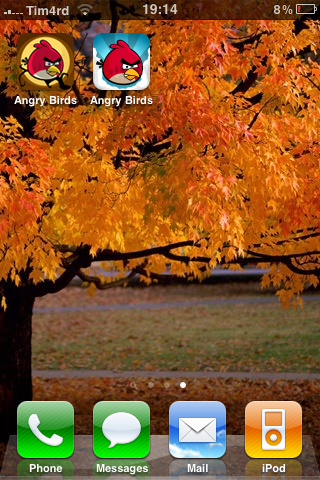 As you may of noticed earlier today I wasn't exactly in the best of moods, so in a desperate move to avoid boredom I decided to buy myself a new app from the App Store. I ended up buying the latest iteration of Angry Birds which came in the form of a Halloween themed version of the original with new levels and challenges.
I'm not exactly fussed on Halloween, it's pointless. I'm not going into that though or it will just end up with me ranting some more. I am, however, fussed on Angry Birds. The incredible little game that came from Rovio has been one of the best selling apps on the app store since it launched and this particular version of it was more challenging and more fun than ever before. I've completed the first one and just finished this new Halloween edition and whilst frustrating when you can't  beat a level for a while but the satisfaction of destroying all these annoyingly smug little pigs is great.
Angry Birds is just great and one of the things that has helped it along it's way too having extremely good sales figures is without a doubt the price. I paid £0.59 which is just about what a pack of crisps costs nowadays and for the amount of fun you get out of it whilst it lasts that really is an incredible price to pay for a game that should last you  a good few days before completing it and a good few months before perfecting every level with 3 stars. I really recommend this game to anyone who owns a device that will run it (iPhone, iPad, iPod Touch).