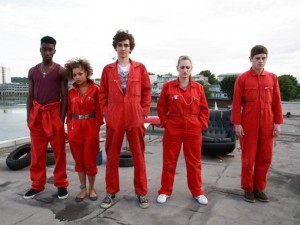 I was wondering when I would see the orange jumpsuits and ASBO super-humans would be meeting my screen again and as of today the Misfits is finally back and as good as it ever was.
When I first watched Misfits I found myself as one of a few, speaking to people about it, I was lucky if anyone would actually have a clue what I was on about but here and there someone did and the feelings towards the show were always mutual. The show is great, it's been called a cross between skins and heroes but I would say thats a pretty bad way of putting it. Partly because it's not even close to being as bad as heroes. It's not hard to follow, it's not boring after one or two episodes and the characters are not complete saps. It's not exactly like skins in the fact that it doesn't take itself too seriously. Hence the super powers. It's great fun to watch and the characters are interesting, funny and similar to what you'd expect from a typical bunch of young offenders: the cocky dick, the chav, the slut, the wierdo and the celebrity who got done for a drug deal and at the end of the last series we saw how all the characters were linked in their convictions.
This series looks to be awesome and so far so good. If you haven't seen it before you can check it out on youtubes 40D channel for the first series and I'm sure the latest episodes will be added in due course!