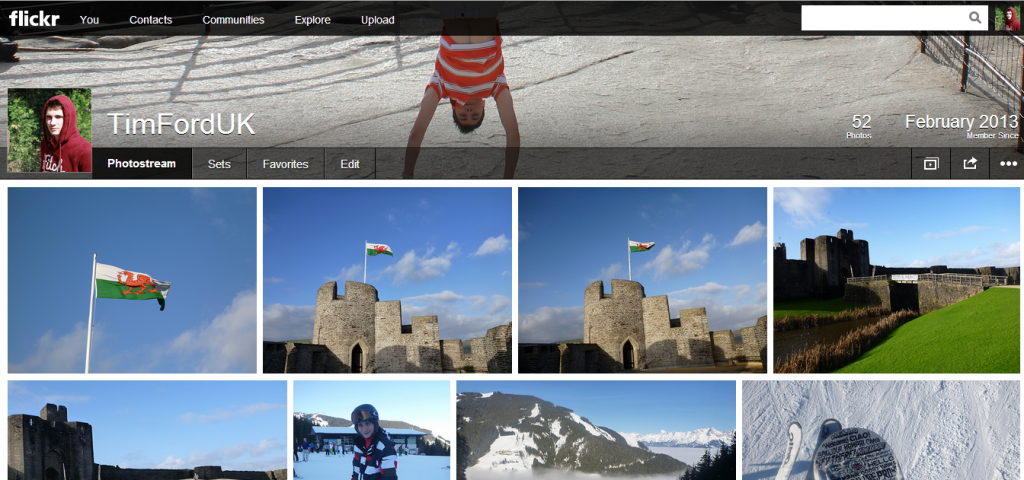 From the moment I took an interest in photos and images, Flikr has always been a name that was synonymous with professional content. Flikr was never meant to be like Facebook where you constantly upload streams of fairly poor quality photos, it was meant for photos that look good and that's why it was the go to place for the pros. I'm by no means a pro but I've always had a Flikr account, although much to my dismay one of them was lost due to my complete lack of involvement for some time.
Now though, under the ever-changing Yahoo and Marissa Mayer management, the photo sharing service has been well and truly relaunched and it's an absolutely beautiful looking website. I have to say, it's quite difficult to make photos look beautiful together because they vary so much in colour and content but this seems to work incredibly well simply by putting all your photos together in a sort of stream. It looks so much better than Facebook's album solution yet holds a striking resemblance. Never ending photos all the way down to your very last one.
The big announcement though came with the idea that everyone can have a terabyte of photo storage. That is absolutely mad. A terabyte is a lot of data even in terms of RAW and it shows that Flikr (every time I type that I realize how much I hate how it's spelt) really is still after the pros in the game. There was a little bit of a mess at launch though, the pros who had paid for ad-free had just found out it was going to cost more to go ad-free with the new version and they didn't seem that chuffed that the free users were now receiving this insurmountable amount of data.  There was also a hiccup suggesting that users would never be able to fill that amount because of a limit of 300mb per month upload limit that has now been debunked as an error and that people will actually be able to utilize the massive amounts of data flikr is offering them. It was a bold move by Yahoo! and hopefully this will encourage places like Google Drive and Sky Drive to up their offerings of storage as the race to be the place to store your content goes on.
Now If I could only get some more time to spend with my SLR I might be able to take some good photos to upload to the newly and beautifully designed Flikr.