This weekend involved a visit to Lake Tahoe. We decided to rent a truck, a chalet (cabin) and head up on Thursday evening to spend the weekend there and get a few days skiing in. There were originally plans to head up with the international students but last time that not only ended up being a complete disaster that involved no skiing and just a 2 day drinking session with strangers but was making a profit off us for no real justified reason.
The plan worked out with us getting this absolutely massive GMC truck. Brand new, haggled down to a lower amount from Hertz rentals and due to it's 4X4 capabilities, absolutely no need to waste money on snow chains.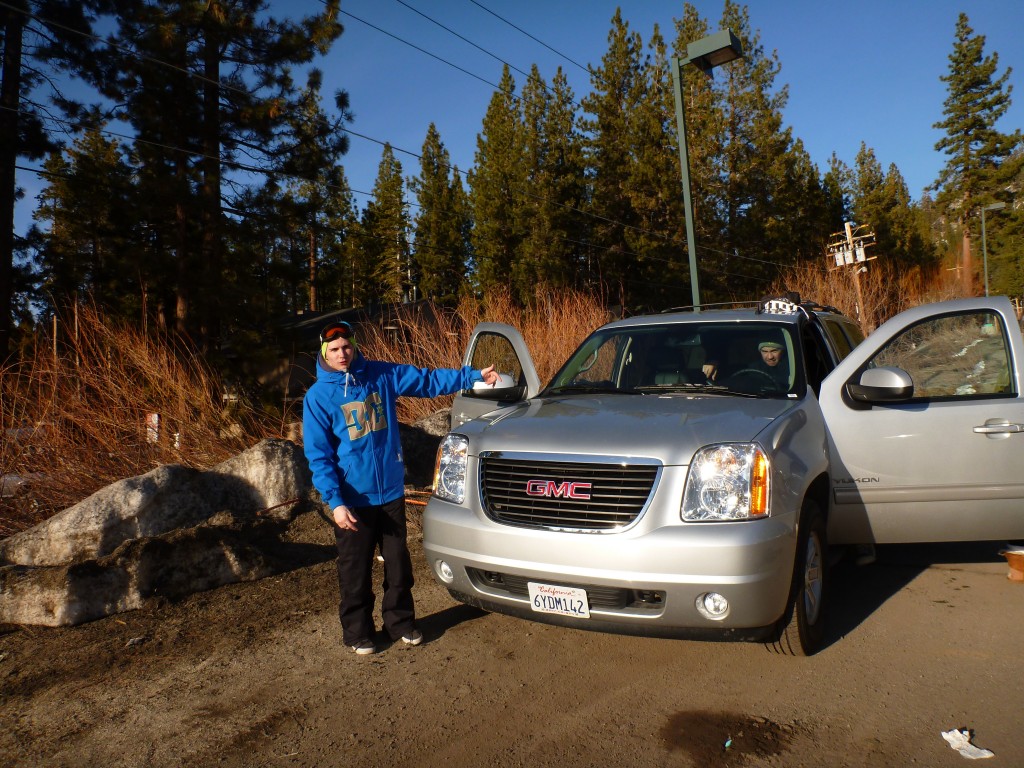 The ride up was absolutely fine and we didn't get there until relatively late due to late classes that people had. We ventured to the first 7 Eleven (Which for me is impossible not to say in a Welsh Accent) that we saw and bought some beers and snacks for the cabin and then we continued to pick up the keys and head to our little residence for the weekend. It literally cost us about $35 a night each which isn't too bad considering that we all got a bed and we all could use the hot tub. There was also a large selection of glasses, cutlery and the house was pretty well stocked. Oh, and shout out to Tahoe Accommodation for the free bottle of dirt cheap wine!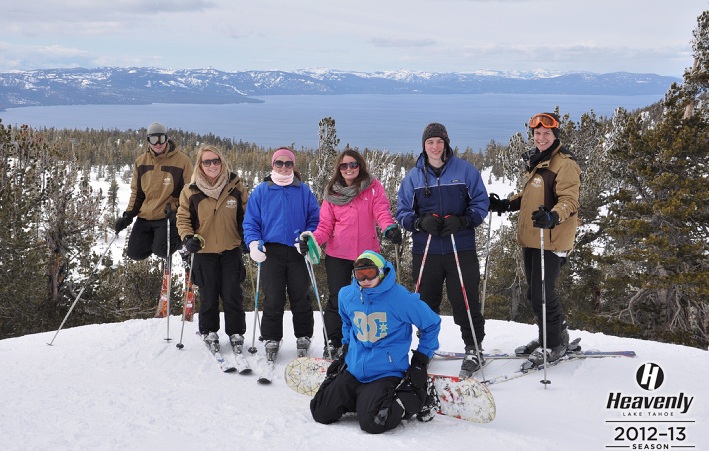 So the first night we were all pretty shattered and were in bed by 12:30. The plan was to wake up and get the first lift. Like that was actually ever going to happen. We hit up the rental shop and got hold of some equipment for a relatively decent price. I paid $40 a day for the superior snowboard package with boots included. I cannot express how much worse this was than the European service. The board was ancient. It was so old I don't think it ever had a new season. I really missed my Burton Bullet at this point but I was only riding for two days and I was boarding with a few beginners so speed wasn't really the most important thing. I actually really enjoyed the slopes when we got up on the mountain at Heavenly. $100 for a days lift ticket isn't cool though. Far too expensive and it's only ever going to go up. But hey, when was winter sports ever cheap? It's part of the definition of the middle class.
The aprés ski was pretty good, the Village had some nice bars, I think Fire & Ice was one of the ones we visited where we sat round a fire pit drinking Sierra Nevada and chatting away about how much our disgracefully unfit bodies were aching.
The next day was my Birthday! Hooray! I got to spend my time with some of the closest friends I've made in America and we had champagne, cake, did the whole card thing but most importantly, I got to shred on my birthday. It couldn't have been a better day, I spend more time on the slopes, got more runs done and after heading down the double black-diamond known as the face got to enjoy the bars in Lake Tahoe and have a few drinks in the hot tub at the house. Later that night we headed to a bar and ordered a taxi to the nearest Nevada Casino and spent some time there.
The snow sports was good, the company was great and the weekend as a whole was extremely fun albeit expensive. Sure I'd love to be going again but the only fault I found with the weekend that's worth complaining about is that it didn't last long enough! I'm very grateful to my friends who treated me so well and I'm so glad I got to snowboard this time and enjoy what California has to offer in terms of snow sports.