This week has been rather crazy, homework deadlines as per, nights out as per and a chance to get hands on with Microsofts latest operating system as I've installed it on my ThinkPad and now have a full copy of Windows 8 Professional to play around with.
Now I've never been one for studying in the library but this week I've actually spent a fair load of my hours working on code and assignments in the uni library. It's newly built, absolutely massive and there isn't that many books, which is, interesting…
My desire to get out of the flat has been an encouragement for me to simply walk up there and get some stuff done. There's no distractions and everyone else there is working so it guilt trips me into working more. I've usually been able to do what ever work I've needed to do in my room, especially last year when I didn't share but this year it seems a lot harder to do that.
I've been looking forward to this week ever since Tiesto got cancelled. I've been desperate to get my super-club fix and Spookfest was the only thing that I had left that was booked. With an artist being dropped from the lineup (example) I questioned whether every ticket I purchased would end in dismay. But I still had Benny Benassi, Datsik and Calvin Harris to keep me entertained in a night of mad dance music at the Oracle Arena, Oakland.  The night really didn't disappoint  each DJ absolutely smashed their set and the crowd was insane. There were some notable downsides to the night, one being that Calvin Harris finished his set after the BART had stopped running so we had to traverse back on the devastating late night transport system that involved 3 hours and 4 buses. The only other downside was that after handing over a $20 note for 2 beers we were told we required an extra $2 to afford them! I know stadium prices but $22 for 2 beers is absolutely insane!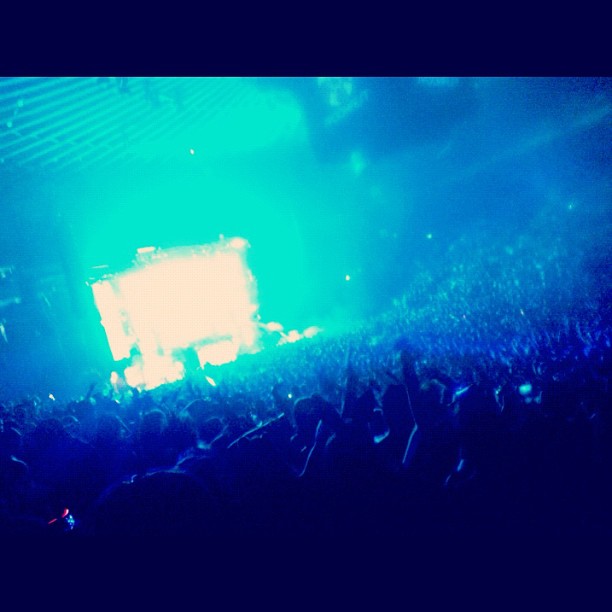 So as previously mentioned, I've installed Windows 8 to join Windows 7 and Ubuntu on the ThinkPad X1 and have to say so far I'm really enjoying it. I've heard countless criticisms of using the mouse with the interface that was clearly built for touch but I've not had such a bad time since installing the new drivers from Lenovo that allow gestures to be used to control the interface. In fact, the new drivers have given me a new found love for the trackpad on my ThinkPad as it always had a very strange feel to it with it's raised grid for tactile feedback. Since installing the new drivers it feels a lot more fluent, not as fluent as the MacBook Pro but in terms of trackpads, Apple's is very hard to beat.
The App selection for Windows 8 has been very limited thus far and even finding the basic apps I expect to find on any new device I buy, I couldn't find. I'm waiting for a decent twitter app, tweetdeck needs to have the modern UI applied to it. Skype is beautiful and Microsoft have really done a good job with it! I really think Microsoft is on to a winner here as long as developers get behind it ASAP. The reviews of various tech blogs are pretty fair in their reviews, the ones I've read have ranged from 7.5 to about 9 out of ten which I think is pretty fair at the moment. Microsoft are the kings of updates though so let's not just expect Windows 8 to be in it's current stage for the rest of time, it will grow and it will get better.