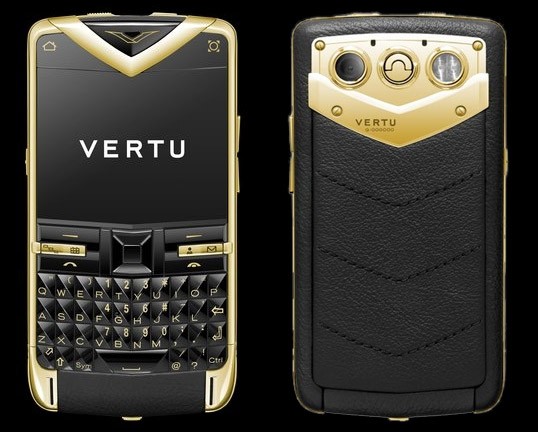 I remember when I was about 14 walking into Harrods and seeing a couple of mobile phones, made by a company I'd never heard of, selling for an insane amount of money. At the time I was ignorant enough to assume that because it cost so much, it must be able to do something that my Sony Erricsson W810i couldn't do. That company was Vertu. A luxury phone producer owned by Nokia that produced phones that were priced as high as £210,000. That's more than your average Aston Martin.
These phones were before the time of iPhone. Before decent smart phones had actually been released and before the design of a mass produced tech product could be considered a luxury design. People had phones that were made of cheap plastic and all it took to sell a phone was one killer feature. Usually a slightly better camera than the competitor. But what killer feature did the Vertu phones have? Nothing. Inside they were Nokia phones. They were made in England, some made with some of the most valuable materials. Diamonds, Leather, Gold. Everything about them had a luxury feel.
But hey that was 2006 and now it's 2012 and Nokia have just sold Vertu. They've sold it to a holdings company for an undisclosed sum and retained a 10% share.
My question is, especially in a day and age where Apple's manufacturing techniques are so impressive and everyone and their mums has an iPhone, is there any room for luxury tech companies? Each and every tech company is making better products out of better materials and every single person I see is after the best phone when it comes to there next buy. They are not after something that weighs a kilo and is plated in gold. No, they want that cheeky little Apple, they want to be able to do everything the iPhone can. Exclusivity is no longer something people long for, they long for the best. The only chance a luxury phone vendor would have these days is with Android or maybe Windows Phone.
Then you've got Bose, Bang and Olufsen and the luxury audio industry. Bose supposedly thrived off marketing techniques before the Internet 2.0 era. Nowadays you've got reviews of audiophiles popping up on Amazon and effecting the ratings. People claiming that it's nothing but an overpriced joke. I'm not one to judge but the luxury audio industry is still doing alright. Bose and B&O both design beautiful products much like Apple. Just like the iPhone is not necessarily the best phone out there, Bose and B&O might not make the best audio products but they still design beautiful products. We see it again with Dre Beats products. I don't like Dre audio what so ever. In fact I cannot stand how they sound, I cannot stand the connotations that go with the brand but I can understand why people buy them. They buy them for the same reason people by iPhones.
Laptops are also an interesting one. People by Apple MacBooks for the sake of it. Not many people harness half the power their MacBook has but they just love the look of them and the luxury connotations that go with the brand. Sony Vaio used to be renowned as a Windows equivalent of Apple design however they've dropped their notebook prices massively. You can pick up a Vaio for half as much as you used to be able too.
Celebrities, footballers, the super-rich and all that. What are they doing to get their fix of  luxury technology these days? Their just not. They use the iPhone like the rest of us, they may be getting the top of the range speaker systems, the biggest TV's imaginable but they are all made by the same vendors you and I use. Granted they may 'protect' their iPhone and iPad in Louis Vuitton sleeves but it's still the same device. Is Dre audio is just another Bose? I really do wonder what will happen to Vertu now. I don't think I've actually ever seen anyone with one in real life. B&O, Bose and the like have a chance, Dre has shown that celebrity endorsement and good marketing can sell poor quality headphones for hundreds of pound and still be considered luxury. Apple is the new standard of premium which everyone compares against and the future of luxury tech is not certain.