About two months ago, I decided to purchase a MiFi device. I have numerous laptops and devices that require WiFi or an internet connection for the majority of their functions and I was starting to get fed up of the pathetic log-in procedures and costs of hotspots that I was finding around London. I was bored of having to type in an excess of characters for each of my friends WiFi connections that I wanted to connect to and a personal hotspot seemed like a sensible option.
For £134.99 you can get hold of 12GB of data for up to 12 months and a Huawei E586 MiFi device from the 3 (Three) Network. This seemed a reasonable price to pay for something that was going to make my life a bit easier in terms of connecting to the internet on the go and even when at home during maintenance hours or just incredibly bad service. Your essentially getting 1GB a month without a contract or any hidden costs. Similar to that of a PAYG phone.
In terms of coverage, I've found 3 to actually be very good. I remember speaking to earlier adopters of the Three network and they found it to be very patchy, some of the major cities getting good services and as soon as you leave them  it being absolutely awful. I can honestly say that from my experience this has changed and having been recommended the Three network by many people recently I can honestly say if your big into your data, they are probably the cheapest and most reliable around. I have coverage in my home town where even the big guns like Everything Everywhere and 02 don't provide access.
After the first week or so I was finding the device pretty temperamental, even with full signal on a 3G connection some websites were just taking too long to load. Recently though the service has been tip-top. The speeds are relatively decent considering your hopping on a mobile network to download pages for full screen devices. Obviously you don't want to go downloading film's using this device but I can't imagine it would take as long as some might think to do so. I have done a test on speedtest.net in my home with half signal and achieved 3.5mb/s download and 0.75mb/s upload.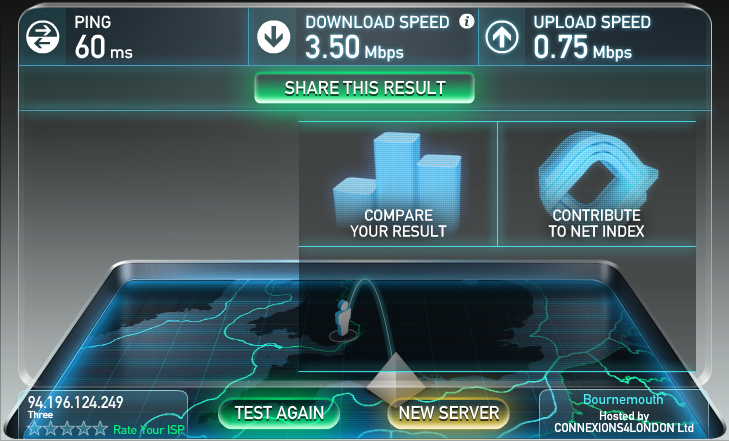 I can vouch for the actual device as well. It's aesthetically pleasing and comes with a nice stand and various charging cables. There is a Micro SD Slot so that you can use the device for storage as well as 3G broadcasting. It's secured with WPA2 security and it's incredibly easy to use. The screen is easy to see in what ever light you may be using the device and despite it's size, displays useful information such as the data that has been used so far, the time that devices have spent connected to it as well as the signal strength.
The battery life is fairly decent, I've not had a problem during 4 hour sessions on the device maybe having to charge it just a little bit using the USB port on the laptop however it's not that power hungry. It also starts up relatively quickly, you can be online within a minute as you can see in the video below:
It's a great companion for an iPad or Tablet if you didn't spend the extra few pounds on the 3G device and will probably save you money and battery life in the long run. There are also contract versions available however I decided not to commit in case a better device comes out sooner or if the UK actually get there act together and set up a reliable 4G network. I can recommend the 3 Mifi, it comes in Black and White and is available from Three's website.