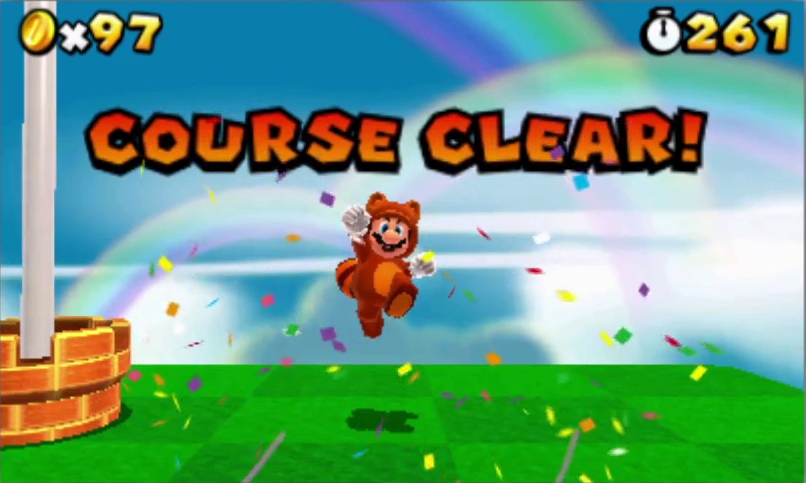 Mario Games have always been some of my favourites. Forever frustrated with the originals on SNES and NES consoles as well as the more modern yet undoubtedly less challenging iterations of everyone's favourite plumbing based platform game.
There is a slight problem though, none of them have been as magical as Mario 64 was. Not one. I loved the Galaxy games, wasn't incredibly fussed with Sunshine but none of them have touched Mario 64. That's just an opinion, I think the closest to getting there so far was Mario Galaxy. I found that game pretty damn fun, I think I prefer the hub style to accessing the worlds in which the desperate aim is to collect stars and save that princess who refuses to stay un-kidnapped.
So Super Mario 3D land. I completed it Yesterday and it was a pretty good run. It has all the charm that a Mario game needs and definitely  plays really well. The story is run-of-the-mill Mario story. That foolish Princess has run off with Bowser again and the only chance of her being saved is by a fat Italian plumber running through worlds full of small brown creatures without arms but sometimes have wings. Never really did make sense did it? But in this rather strange world we live in it works very well and always has. The format of the game is a sort of cross between New Super Mario Bros. and the 3D games such as 64 and Galaxy. You select levels as you would in New Super Mario Bros. although the worlds are much more akin to those found in the modern console game.
The worlds are as you would expect from Nintendo, graphically beautiful and detailed but with a hint of familiarity. You've got your water world with disgustingly infuriating fish, you've got your desert worlds with cactus cats everywhere. There are 8 worlds in total and each level takes it's own theme. Some original ideas in this iteration keep it interesting but I won't spoil anything for those of you that haven't played it. Is all you need to know is that it's everything you'd expect from a Mario game in terms of design.
In terms of how much of a challenge it is,  the first part, not so much. This is something that has come to annoy me about modern Mario games they are becoming too easy. The original games would be offended at the thought of being as easy as New Super Mario Bros. was. This one is a little harder but if you actually die something like 5 times on one level you get the stripy leaf Tanooki suit that makes it virtually impossible to lose. It gives you the power to run into just about everything you want and watch it die instantly and hover around without much chance of falling off anything. I actually did everything I could to avoid using this and didn't rely on it for one level entirely once. The normal Tanooki suit does come in useful when you are required to get as many stars as possible as some places are impossible to get to without the use of the suit. It is quite fun to play as Tanooki Mario especially seeing as the suit hasn't been in any of the games for so long.
Then there is, once you've completed the game, you unlock the special worlds. Part of the game that offers insane time-trials and a much more challenging game. It's much more frustrating and everything I look for in a Mario Game (except the hub, I like hubs). It's fantastic fun, incredibly frustrating and overall a fantastic addition to the game giving it far more play time and great replay value.
The 3D effects on this game are far better than any of the other games I have played on the 3DS thus far. They compliment the gaming experience incredibly and make those really annoying nooks and crannies that used to be so hard to find on 2D screens so much less frustrating and it really adds to the game. There are sections of levels that are specially tailored to the 3D experience and they are great fun.
Overall it's a great game, it's a great bit of fun and an essential buy for those of you that want your favourite Plumber on the move with you on your 3D gaming console! This game was made to show off what the 3DS can really do and it really makes a good rob it! You've also got that being a 1st party Nintendo game it will hardly loose value over time compared to any other game!