As a previous user of Linux and leaving my Linux based laptop back in Wales I decided I'd run Ubuntu in a virtual machine rather than go out and spend money on a CD and burn the disk image onto it.
So I downloaded Oracles VirtualBox (free!) and a copy of the latest distro of Ubuntu and installed VirtualBox and then allocated a suitable amount of memory and a virtual hard drive for the operating system to run in and ran it in the live cd mode. There is no need for me to commit to a proper install and if I needed to do that then I could use ubuntu's own installer that makes ubuntu run as an application within windows.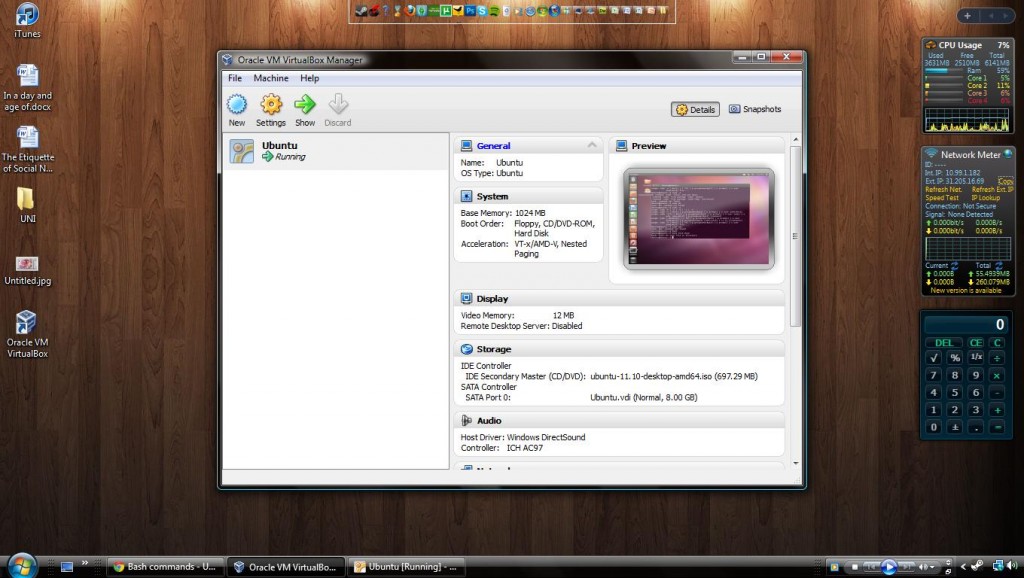 Then I opened the terminal to try out some bash commands.
Various commands were used such as creating directories and deleting them.
Changing permissions is a much bigger part of Unix and Linux systems than on a Windows based system and commands can be used to change the accessibility of certain files and folders within the file system. Changing permissions of files is something I regularly had to do via an SSH server when I was accessing the iPhone file system in the earlier days of jailbreaking before the software was able to do that itself or when errors occurred due to the wrong permissions on certain files. iOS itself is a Unix based system.
I also used other commands for carrying out processes like checking network settings, ip addresses and system monitoring. The benefits of using the terminal include speed of processing and the ability to use just keyboard input to control the computer. Using a terminal to command a computer is generally more useful to experts than the average user as it requires the user to remember commands.