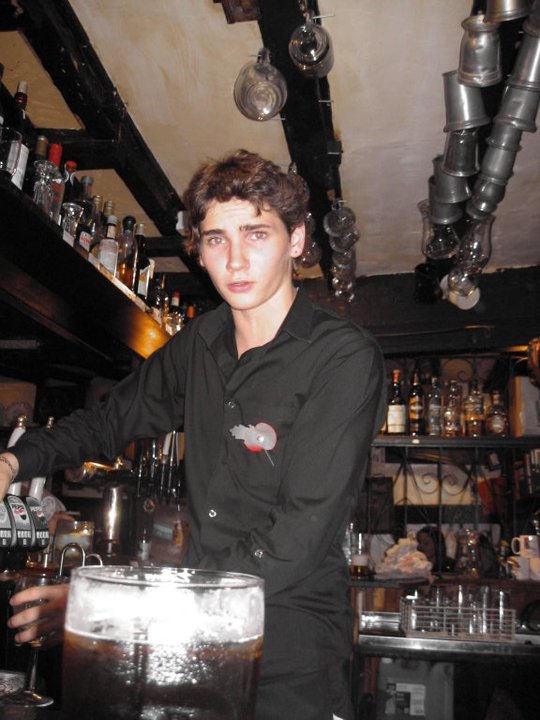 For about a year now I've worked at the Kings Head Hotel in my hometown of Usk as a barman. This is the second "official" job that I've had and the second job I've had in the Catering/service industry. The main difference between this and my last job is that the last job I had was in the kitchen as a porter, where as this one I was front of house, on the bar.
For me, committing to a job with late hours whilst being a full time student wasn't exactly hard. I wanted money, I loved pubs and if I was behind the bar it meant I couldn't be out spending money on the other side. I started working a saturday shift, coming on at 6 and leaving in the early hours once the merry people had finally given in to the mass intoxication they have put themselves through. I then took on a second shift on a Wednesday evening when I would be working on my own on the bar and keeping on top of things as much as possible again from 6 till late.
The Kings Head Hotel is a strange little place, not in a bad way, in a great way. It's old and rustic inside, it's a proper pub. There's old world decor all over the place and still smells like a pub with good food and cared for real ales on the pumps. It's atmosphere is renowned and it's fully booked most weekends and busy throughout the week. There is something undoubtedly charming about the entire place and I absolutely loved working there.
It's not exactly the sort of place you would think an 18 year-old tech nerd would feel comfortable spending lots of his time, the place didn't even have WiFi or a website until I started working there. It's not just about the place though, you could work in Buckingham Palace and absolutely hate it because you get treated awfully by others and disrespected. This is something I hardly ever came across. Even from my first shift, I was making friends with the locals and talking with some of the most fantastic people I've ever met. Yes, of course you get the odd mug here and there who think they can down talk to you because your in one of the lowest paid jobs about, but there were always people to stick up for me, whether it be staff, locals or even other customers who understand what it's like to work behind the bar.
I have learnt so much working at this establishment. So much about business, so much about people and so much about working in a team. My bosses were absolutely fantastic, they would stick up for me, they would teach me anything I needed or wanted to know without asking questions or getting annoyed, they made me feel welcome and valued. There is not a single member of staff at the Kings Head Hotel that I did not get on with and I hope they all feel the same about me. It's been an absolute pleasure working at the Kings Head Hotel from start to finish and even if it was hard work some nights, in a way I will miss it and everything that's great about it, which I think mainly comes down to the people.
I'd like to publicly say thanks to everyone who worked with me and everyone who made me feel welcome from the start, I've had an absolute blast working at the Kings but I must now leave for University at Kingston Upon Thames doing something a bit more along the lines of my interests, computer science.
Thank you all, I hope to see you soon 😀