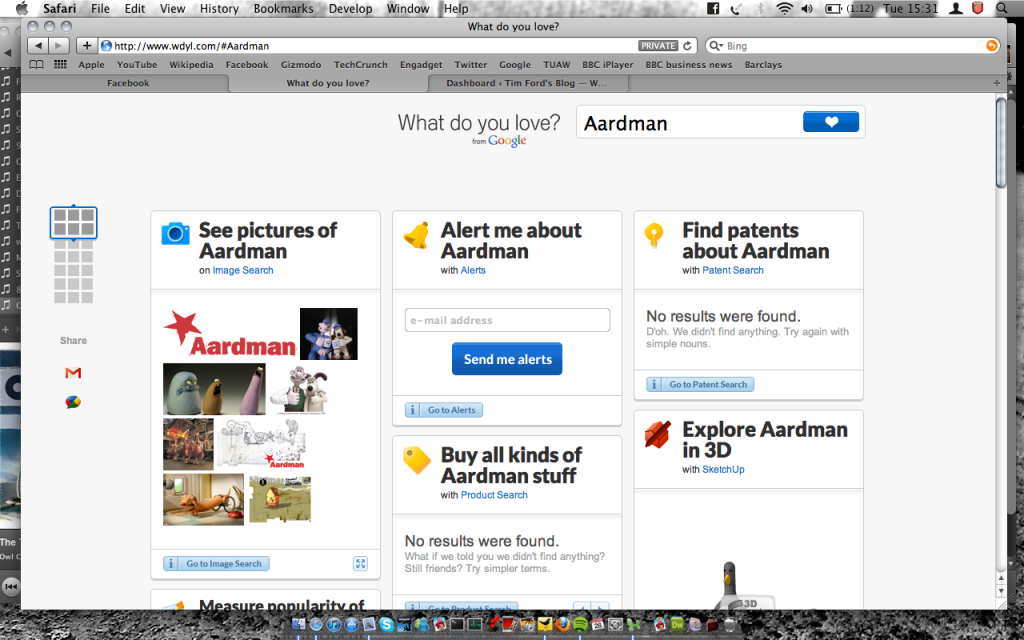 Surrounding the web today has been Google's latest attempt to interest you in just about all of it's well known services, should you not have already been sucked in to the Google world. How do Google plan to go about doing this? ask you what you love and show you all the related things to that particular word or phrase that Google services can do/use.
As you might of noticed from the screenshot above, this includes more well known services such as image search and others that people might not be so aware of such as patent search. It's quite a good thing to use if your looking for a broad variety of information about a particular thing however I can't help but think that it's a bit of gimmick and that people will only use it once in a while.
I like how when you type in something such as Aardman, you can view rendered characters from shows like Wallace and Gromit and Shaun The Sheep that people have submitted too sketch up, a free tool for making three-dimensional renders that Google offer.
It does seem a tad buggy at the moment though, for example if you go onto Google Product Search and type in Aardman you will be prompted with pages and pages of products related to the animation studio however, if you search it on the What Do You Love page, no products are shown at all.
I can imagine this might also be good for a bit of research as you can see an overview of a vast amount of information about something. Almost like it has a central hub of information that you can go back to in order to find information in a different form, whether that be in terms of search trends, news or images.
Google is renowned for it's innovative services and this is certainly one of them, whether it will take off and become as big as it's other services, I'm skeptical. In fact very skeptical, I can't imagine people using this as their main search tool, although I don't think that's what it's intended to be used for.
Visit the website here.