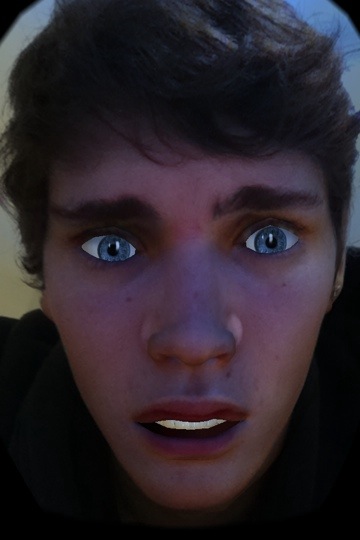 If you've heard of the uncanny valley, the balance between animation and human features can create well and truly fantastic, emotional animation, or something that's just extremely creepy.
Morfo does a fantastic job of going to the very top of the uncanny valley and creeping out everything within it. The idea behind the app is to take a picture of yourself or a friend (assuming you have one) and then masking on top of the image the head shape and size, eyes, nose and mouth. This then allows the app to animate the face using pre-determined animations that can be universally applied to the face. It also decides to mount the 2D image on a 3D baloon sort of object allowing the motion of the head.
I've showed this app to countless people and they've all just said, "that's weird", "that's creepy" or just "errr". Fair enough to all of them too. It is creepy, it's weird to see yourself animated in a way that's not quite true to life. It almost takes your personality away because everyone moves in different ways, even if there are very slight movements such as blinking or smiling, people do it differently and we do pick up on it, whether that be subconsciously I don't know but when it changes you sure as hell notice the difference.
The things you can do with morfo include startling the face, making it dance or doing your sort of fatbooth, elfbooth and herobooth effects on it. Every single effect is creepy, weird and pointless. It's a bit of fun to show people every now and then but the truth is that it takes ages to mask the face and then there's only so much you can do with it before the app anoyinngly prompts you too pay £1.2o for some more creepy extra's.
I'm not going to reccommend you go and download this app, it's a bit boring after one or two go's and it's just weird and pointless. Sure, go ahead and download it if your into that and you want to show people what you magnificent iPhone can do with their face but other than that it's just a time waster and not the good sort like Angry Birds as it feels like you actually have to make an effort before you can have a brief 20 seconds of fun.