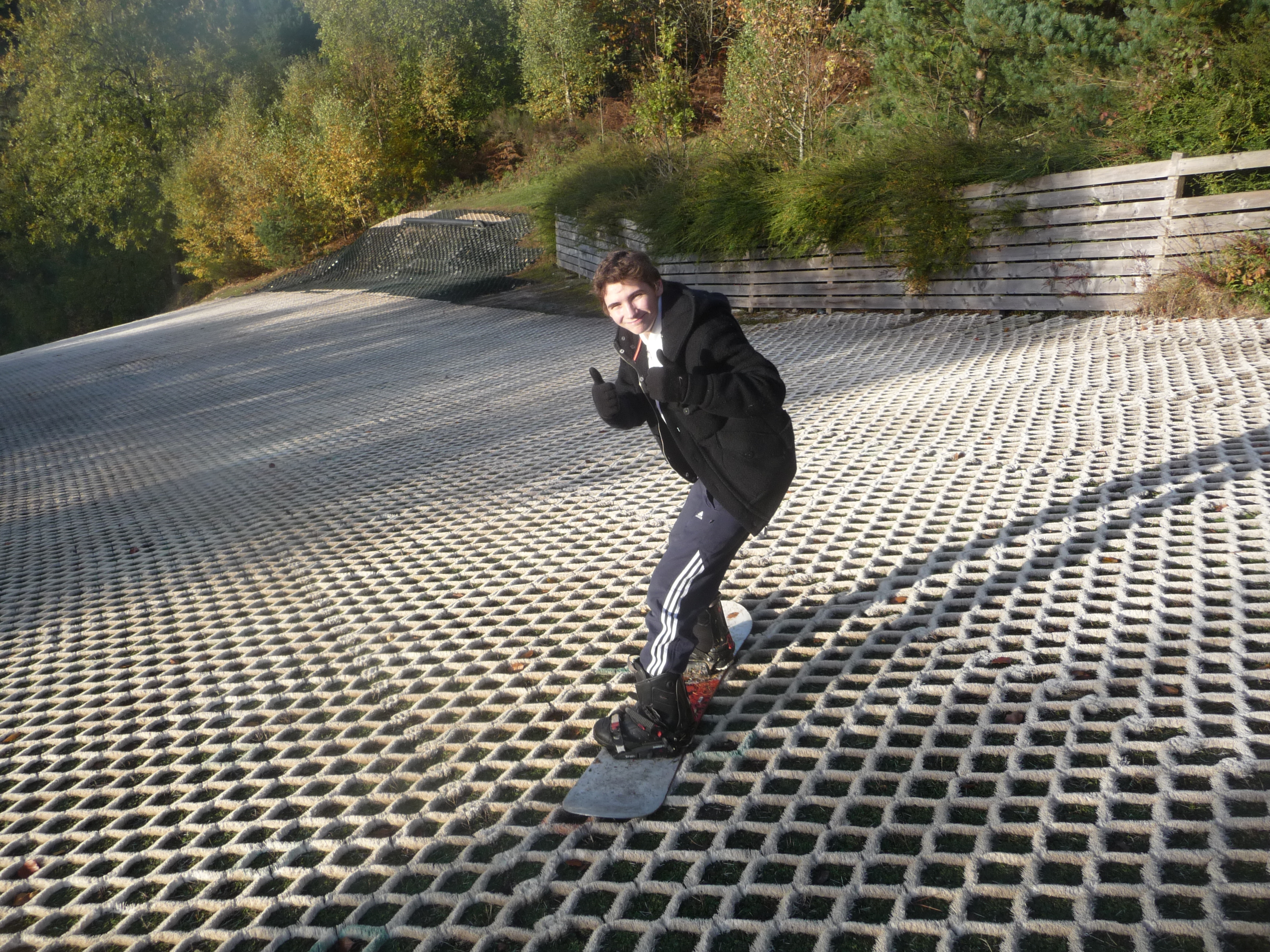 Ventured up to Pontypool dry slopes yesterday. I've never been too sure on the dry slopes. As a keen snowboarder and skier I've always liked the idea of the dry slope however it's always been a poorly maintained slope and the experience just isn't close enough to the real thing. However this time I went up and snowboarded with a friend who was skiing. It was good fun after we'd gotten used to the slope but the problem was again with the maintenance of the slope. I'm sure it's more fun for skiers because you might be able to pick up a bit of speed doing the "penguin dash" but on a snowboard you could be going down the reasonably steep slope and just stop solid because the material just was too sticky to slide on. This could also be partly due to the fact that the snowboard I rented had massive scratches down it and some deep cuts into the board and looked like it had never been waxed.
Then theres the pommer lift that's terrible. Placing the button between your legs and pulling a lever to engage the pull on the pole is fine but then your dragged up the hill with a series of jolts in random places and it actually wears you out because the surface beneath is so sketchy and you have to keep control of the board and at the same time and strangely enough, avoid some nutcase dog who is interested in nothing but getting in your way and after you dismount the lift, trying to catch the pole and button in it's mouth. Strange thing to have at a dry slope I thought.
Turning on the slope was fine if you could get up enough speed to actually do one before stopping in a random part of the slope and there was also a small ramp and rail at the top of the slope of which I managed to hop onto and slowly move across because this ramp and rail are so near the top in a position where a snowboarder would struggle to keep up with a zimmer-equipped elderly person.
All that said though, we did have fun up there and with a few more of us up there it could be absolutely hilarious although if we do go again I think I will have to ski in order to do somethings a bit quicker and get more out of it. The price was alright too, £10 for I think pretty much as long as we wanted and equipment (although that was awful) and we lasted about an hour and a half before discovering how incredibly unfit we are and staggering to the leisure center in dire need of a drink.
So yeah we had a bit of a laugh up there and we will probably go again. It's just a little rough around the edges that's all but when your skiing somewhere it never snows and always rains you expect it to be.